Not for me. I haven't got a fashionable bone in my body. Tallulah Belle Poodle, however, has an image to uphold.
The girl's collar is worn out and needs to be replaced. She can't just wear any collar, though. She's got to wear something that's poodle-worthy. I'm looking for something in leather (or naugahyde), because nylon collars always seem too ratty too soon. It has to be sparkly or whimsical (or both!) to match her poodlicious personality.
Local selection isn't very good, so I went on line...
I kinda like these: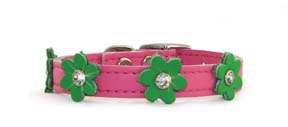 But I can't seem to find a Canadian vendor. Having it shipped in from the States would more than double the price.
I think... I think this is going to require a trip to the big city. White Avenue, here we come.